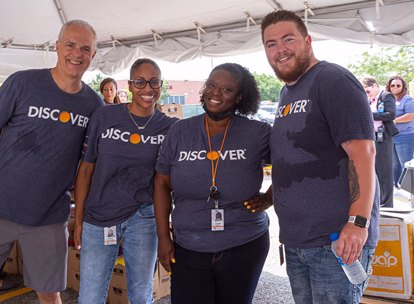 Customer Service
Bring Smiles.
Shine Bright®.

Help people spend smarter, manage debt and save more. End each day knowing you've made a difference.
Role Areas Overview
Customer Service roles that come with a sense of pride.
• Inbound Customer Service - You enjoy helping others. You will be busy, taking call after call, assisting our current customers with questions and inquiries.
• Cardmember Assistance - You will be speaking with delinquent customers, listening to their concerns, and providing them with the best solutions.
• Banking Customer Service - Our approach in banking is about you finding the right options for the customer by understanding their needs, and the options Discover has for them.
Be the difference between good service and great service. Manage your team day-to-day, inspire them to provide helpful solutions for each customer, and drive results.
You will resolve cardmember inquiries regarding a fraud or security-related concern.
About Us
Why Customer Service?
Learn more about Discover's customer care careers in Customer Service, Banking, Collections and Fraud.
Find Your Role
Opportunities in Customer Service
Locations
Find our Customer Service Centers
At our new Customer Care Center in Chatham, there's a spacious, practical workspace, where teams are free to thrive. Here, we're very much part of the community, providing up to 1,000 jobs and hosting community meetings, training sessions, and volunteer/service initiatives.
Just north of downtown Phoenix, you'll find our Phoenix Operations Center. Set against the desert landscapes of the Valley of the Sun, it's a beautiful location—and also convenient. Ample parking and easy access to major freeways, bus routes, restaurants, shopping and leisure facilities are appreciated by the 3,000 people working in our Customer Service, Consumer Banking, Security/Fraud and Risk teams.
Our West Valley City Operations Center is something special: based in 76 acres of lakes and waterways, it offers spectacular sunrise/sunset views of the Wasatch and Oquirrh mountains. Here, a diverse 3,000-strong team handles Customer Service, Consumer Banking, Security/Fraud and Risk.
Utah is also home to our state-of-the-art Processing Center in Salt Lake City—and just ten minutes away from the West Valley campus.
Just northeast of the state capital, Columbus, our New Albany campus lies at the very heart of Ohio. As one of the area's largest employers, we're proud to be part of this fast-growing community, bringing a sense of heritage and strong support for local arts and culture.
At our Iron Hill Operations Center, 1,200 dedicated people do brilliant work across Customer Service and Risk. Our newly renovated facility offers all kinds of convenient amenities, including a fitness center and on-site nurse.
Department Insights
Explore life on our team
Life@Discover Blog
Customer Service-what's happening in our world?